If you find injured wildlife here's what you can do:
DO NOT APPROACH snakes, monitor lizards (goannas), bats (flying-foxes or microbats), large macropods (kangaroos or wallabies), koalas or raptors (eagles, falcons or hawks). Give WIRES Wildlife Rescue a call on 1300 094 737 to report the incident and see if a rescuer is able to come out and please ensure you confirm the EXACT location where the animal was found.
In other instances, you may be instructed to bring the injured wildlife to your closes vet for assessment and treatment before going into care. If the sick or injured animal is safe to contain (e.g. birds), gently contain the animal and keep it in a warm, dark, quiet place e.g. a box covered by a towel, and transport it to the nearest vet. Most vets will treat wildlife free of charge so please call the vet to let them know you are coming and do not give the animal any food or water, unless instructed to by a vet or WIRES.
If you let WIRES know which vet you've taken the animal to, WIRES can follow up with the vet to coordinate rehabilitation for animals needing to come into care.
You can also follow the link below to report a rescue online: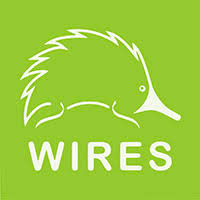 https://www.wires.org.au/rescue/report-a-rescue